Waylon Smith
View MissingKidsALERT profile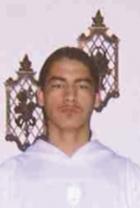 "I don't like to talk about my Waylon as if he's gone, but if he is, I pray he's with his brother. And I hope to one day get a proper goodbye…"
Date of birth:

Nov. 6, 1988

Missing since:

Jan. 17, 2006

Missing from:

Lake St. Martin, Manitoba, Canada

Eyes:

Brown

Hair:

Dark brown

Height:

5'10" / 177 cm

Weight:

142 lbs / 64.5 kg

Additional information:

Waylon Smith was last seen in the Lake St. Martin area of Manitoba. Waylon is missing teeth and has circular scars on both left and right forearms.