Noreen Anne Greenley
View MissingKidsALERT profile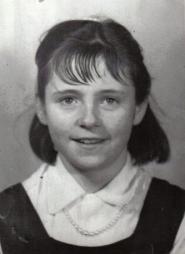 "Noreen, your parents, brothers and sister all sought closure to find you – unfortunately their journey in life here ended before that closure came. We are still here, for you, Aunty Noreen. We must never forget about our missing children. We must keep them alive. We are their voice. We, together, can make a difference and bring our missing children home."
Date of birth:

May 16, 1950

Missing since:

Sept. 14, 1963

Missing from:

Bowmanville, Ontario, Canada

Eyes:

Green

Hair:

Brown

Height:

5'0" / 152 cm

Weight:

99 lbs / 44.9 kg

Additional information:

Noreen was last seen leaving a friend's home at approximately 11:00PM on September 14, 1963. Noreen intended to take the bus from the stop across the street on Old Highway 2 and Waverly Rd in Bowmanville. However, a witness reported to have seen a young girl get into a small blue car at this time and location. The car was described as a 1957-1959 Ford Prefect in good condition.